The Ottawa Robotics Enthusiast (O.R.E) g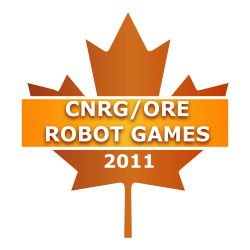 roup will be hosting a Canadian National Robot Games Regional competition on June 11th, 2011, in the Arts Court "Library". The competition will be held at Arts Court, starting at 10am until 4pm. The event is open to the public and everyone is encouraged to either compete or come and check it all out.
We finally got the official website up and running here : Canadian National Robot Games website.
We've also got info up on the O.R.E. wiki, including details of some of the robots that are being put together to kick start the event as well as all the rules of the 4 different competitions.